Branson Buzz - Jan - Feb. 2010 * Issue 25
Come Back Again in 2010 - Branson Offers More than Ever Before!
We invite you to come to Branson in 2010 and enjoy our genuine Ozark Mountain Hospitality all year long. Our welcome extends throughout five unique seasons: Winter, Spring, Summer, Fall and Christmas. January through December, you'll want to come back again and again to experience the variety of shows, attractions, sightseeing and activities to see and do in Branson!
If more than 100 live music shows, a unique theme park, three pristine lakes, amazing family attractions, championship golf, museums, shopping at hundreds of outlet, boutique, and upscale specialty shops sounds like fun, then a visit to Branson is the perfect vacation for you and your special group!
CELEBRATING 50 YEARS OF FAMILY FUN IN 2010!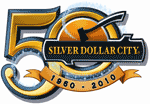 Silver Dollar City will celebrate a milestone of 5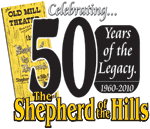 0 years of entertaining folks at their award-winning theme park throughout 2010. New for 2010, Silver Dollar City is opening a new $7 million ride - Tom and Huck's RiverBlast. Lots of special events and activities are planned. For more information visit www.silverdollarcity.com
Shepherd of the Hills also celebrates its 50th Anniversary in 2010. Since 1960, The Shepherd of the Hills Outdoor Drama has been one of Branson's most popular attractions, and this year is an ideal time to sit under the Ozarks stars and experience (or experience again) Harold Bell Wright's epic story of love, loss, power, hardship, and the true meaning of life. For more information visit www.theshepherdofthehills.com
WHAT'S NEW AND UPDATES FOR BRANSON IN 2010!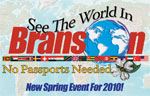 See the World in Branson" – No Passport Needed - a new Ozark Mountain Spring event. Festivities will highlight the diverse internationally inspired (and American) entertainment, attractions and cuisine available to visitors in the Branson, Missouri, area. For more information go to www.seetheworldinbranson.com
Titanic to Host 4th Annual Ice Sculpturing contest

Spectacular ice formations will rise from Titanic Branson's parking lot when National Ice Carving Association's Titans of Ice compete in Titanic's 4th Annual Ice Carving competition from 9 a.m. to 3 p.m. on Saturday, January 16, 2010. For more information visit www.titanicbranson.com

Roy Rogers Jr. Announces 2010 Show at Mickey Gilley's
Roy "Dusty" Rogers Jr. announced in December that he and The High Riders will perform with his son, Dustin Roy Rogers, in the Mickey Gilley Theatre starting on March 4, 2010. Roy Rogers Jr. and The High Riders will do a 10 a.m. show. For more information visit www.royrogers.com
Enjoy the 2nd Annual Missouri Food & Wine Festival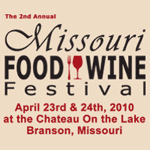 At this two day festival to be held April 24-25, 2010, at the beautiful Chateau on the Lake Resort, attendees will sample unlimited food and beverages from Branson and around the world in our 15,000+ sq feet of exhibition space as well as enjoy cooking demonstrations, seminars, and LIVE music all day, both days. There will be a BBQ and Burger contest with an outdoor smoker and grill area. On Saturday, the Missouri Food and Wine Festival will host America's Purple Heart recipients participating in "Hand in Hand" which is sponsored by Branson.com. For more information visit www.mofoodfest.com
The Presleys are coming to RFD-TV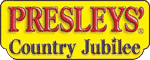 The weekly television show, Presleys' Country Jubilee, will mirror the proven format perfected by the family during the 42-year run of their high-energy performances at Branson's original music theater. The program will be produced on the stage of the Presley Theatre in Branson, Missouri, and star three generations of the Presley family along with their multi-talented cast who have kept patrons coming back year after year. RFD-TV will premier Presleys' Country Jubilee in March 2010 during prime-time on Saturday nights each week. For more information visit www.presleys.com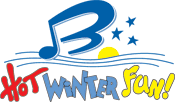 16th Annual Hot Winter Fun Big Show
The Big Show is scheduled for Monday, February 8, 2010, at 7:00 pm at Dick Clark's American Bandstand Theatre. For more information or to purchase tickets call 417-339-3003.
37th Annual Plumb Nellie Arts & Crafts Festival Returns to Historic Downtown Branson
The event is sponsored by the Downtown Branson Main Street Association and celebrates the heritage of arts and home crafts and the skills of individuals who want to keep the traditions of the past alive. Shoppers will find artists and crafters from all over the country showcasing a wide variety of items including woodcrafts, quilts and clothing, crocheted and knitted items, hats, purses and ladies' accessories, toys, floral arrangements, ironwork, collectible dolls and more. The Plumb Nellie Arts & Crafts Festival compliments Historic Downtown Branson's eclectic assortment of over 80 retail shops, flea markets, restaurants and attractions. For more information visit www.downtownbranson.org
The Mansion Theatre To Host New Shows and Returning Shows in 2010
Kenny G. April 24th
Vicki Lawrence May 7th and October 8th & 9th
Johnny Mathis with members of the Springfield Symphony Orchestra November 12th & 13th
Liverpool Legends will perform at the Mansion in 2010
New York Broadway Production of Peter Pan starring Cathy Rigby is back July 6th – August 15th
For more information on all the shows visit www.themansiontheatre.com

The Oak Ridge Boys Theatre To Host New Shows and Returning Shows in 2010
Restless Heart March 13th – 27th
Country Tonite starring Marty Haggard, A Tribute to Merle Haggard
Country Tonite starring 3 Red Neck Tenors July 6th – August 15th
For more information on all the shows visit orbtheatre.com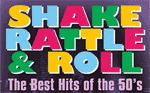 The Branson Variety Theater Announces New Show in 2010
"Shake, Rattle and Roll - Best Hits of the 50's" will be a celebration of song and dance with a large cast and a live band. For more information visit www.bransonvarietytheater.com

Tri-Lakes Center To Host New Shows and Returning Show in 2010
Mary Duff March 20th – April 8th
His Life – The Musical March 2nd April 8th
The Dalena Ditto Show April – December
Daniel O'Donnell November 1st – 20th
Mel Tillis & Family Christmas on select dates during Ozark Mountain Christmas
For more information on all of the shows visit www.trilakescenter.com
Branson to Host Newest Ironman 70.3 Event

On September 19, 2010, the inaugural race will take place in Branson. Professional athletes will be competing for a $25,000 prize purse. For more information visit www.IronmanBranson.com.
The Cat's Pajamas to perform at Dutton Theater in 2010
The Cat's Pajamas, an award-winning vocal band, are a popular quartet, best described as revolutionizing a capella group singing, they have performed all over the world on television and in live performances. For more information go to www.theduttons.com

The Gatlin Brothers & Debby Boone return in 2010
The Gatlin Brothers and Debby Boone are scheduled to return to Branson in 2010 to perform at The Oak Ridge Boys Theatre on selected dates. For more information go to www.orbtheatre.com

Ray Stevens Coming September and October 2010 at the Welk Resort Theatre
A multi-platinum recording artist, songwriter, two-time Grammy winner and a Branson legend, Ray Stevens returns to Branson in 2010 for a special celebration of 50 years in the music business. With over 4 million albums sold in his career, Ray Steven brings all of his hits to the Welk Resort stage this Fall: from the hilarious "Ahab the Arab", "It's Me Again Margaret" and "The Streak" to the touching "Misty" and the classic "Everything Is Beautiful." A true pioneer and singular entertainer, you will never forget an evening spent with the legendary Ray Stevens. For more information visit www.welkresortbranson.com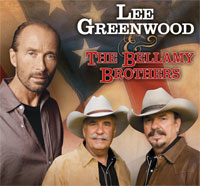 Lee Greenwood & The Bellamy Brothers to return to the Welk Resort in 2010
September and October will feature American Music at its Best! Country greats Lee Greenwood and the Bellamy Brothers ill team up again to bring a spectacular show to the Welk Resort. For more information visit www.welkresort.com
"The Splash-A-Torium", the Welk Resort's newest addition
A
n indoor/outdoor 10,000 square foot water attraction located right in the heart of the resort. The year- round attraction features an outrageous 117 foot indoor water slide, indoor/outdoor pool, locker rooms and a large indoor and outdoor hot tub. For more information visit www.welkresort.com

Welk Resort Announces 2010 Christmas Show
Tony Orlando and The Lennon Sisters will be returning to the Welk Theatre for their 2010 Christmas Celebration. Singing heartfelt Christmas classics and Tony's memorable chart-topping favorites like "Tie A Yellow Ribbon 'Round The Old Oak Tree," "Sweet Gypsy Rose," "Candida," and "Knock Three Times." Two American Treasures in One Great Show. For more information visit www.welkresort.com
Always, Patsy Cline coming to God & Country Theater in 2010

One of the best-loved names in country music is the subject of "Always... Patsy Cline", a funny and touching tribute as narrated by one of her most devoted fans and friends. For more information visit www.godandcountrytheatre.com
New shows coming to RFD-TV The Theater in 2010

One of Branson's longest-running decade shows is "50's At the Hop", starting out the season on Valentine's Day weekend. Other shows include Brulé, American Indian Rock Opera. Marty Stuart and Country's Family Reunion coming in the fall. For more information visit www.rfdtv.com
Branson's newest attraction, the Branson Auto Museum

Located on the world-famous "Strip" in the former "Engler Block" crafts mall. The museum features over 100 cool cars inside and 15-20 outside. The gift shop features die-cast, apparel, books, magazines (with a reading area), pedal cars and many other automotive related unique items. www.bransonautomuseum.com
Branson Tourism Center launches on-line Affiliate Travel Agent commission program

BransonOnTheWeb.com, a website devoted to selling show tickets, attractions and lodging for Branson, Missouri has launched its Travel Agent Affiliate Program. Travel agents can sign up for free and earn commissions for their orders, receive detailed reporting and tracking capabilities and link to Branson Tourism Center's extensive selection of Branson shows, lodging and attractions. It's quick, easy and free and they offer an on-line video tutorial to help you get started. And, commissions are paid twice each month! Those interested in the Travel Agent Program can go to http://bransonontheweb.com/travelagents to learn more and sign up to participate, or call 866-288-1966.

Polar Express going to the North Pole Returns to Branson in 2010
From the children's classic story, and available just during the holidays, ride the Polar Express at the Branson Scenic Railway. For more information visit www.bransontrain.com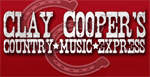 Clay Cooper's Country Music Express is moving to their new theater in 2010
It is the former Osmonds Theater on Hwy. 76 across from the Titanic. Clay's star-studded shows line-up includes Neal McCoy and Buck Trent. For more information visit www.claycooper.biz
Jim Owen returns to Branson for his 19th season in a new location
The beautiful Branson Mall theater where it all began for him in 1991. Shows are May, September thru December. For more information www.jimowenmusic.com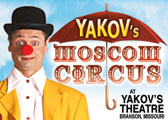 Yakov Smirnoff's Moscow Circus Returns in 2010
Featuring Andre the Clown, Irina Markova and her award-winning canine troupe with their feline friends, Igor & Denis "The Strongmen of Moscow," Flying Adagio Star Marina, National Unicycling Champion Anthony Soumiatin, Boris the Wonder Dog and more. For more information visit www.yakov.com

Starlite Theater offers three great shows in 2010
Bill Medley of the Righteous Brothers will perform his list of unforgettable hits; The World Famous Platters will return in 2010 and Cirque Imagination's "Montage," comprised of world-class former Cirque du Soleil artists will perform their first full season in Branson in 2010. For more information visit www.starlitetheatre.com
Chinese Production Company Buys White House Theatre
The Legend of Kung Fu will open in May 2010 at the White House Theatre. There are more than 50 performers; they took part in the ceremonies at the Beijing Olympics and have performed all over the world. The show is a production of China Heaven Creation, founded in 1999 with the backing of the China Travel Service and approval from the Ministry of Culture of the People's Republic of China as a national model for cultural export. For more information visit www.kungfubranson.com

Ozark Medieval Fortress Opening May 1, 2010
The town of Lead Hill, AR will host the Ozark Medieval Fortress in spring 2010. It is a work-in-progress over 10-20 years and the plan of the French owners is that tourists and groups of all ages will visit to watch construction done with period tools and techniques. For more information visit www.ozarkmedievalfortress.com

Carnival Cruise Lines Hosts Two Branson Entertainers
Branson at Sea will feature the Jim Stafford Comedy Show and the Moe Bandy Country Music Show departing on the Carnival Legend January 2, 2011 from Tampa, Florida. For more information call toll free 800-463-4254.
Look For More "What's New & Updates for Branson in 2010" in the March/April Branson Buzz!
---